Guide to uniforms for new builds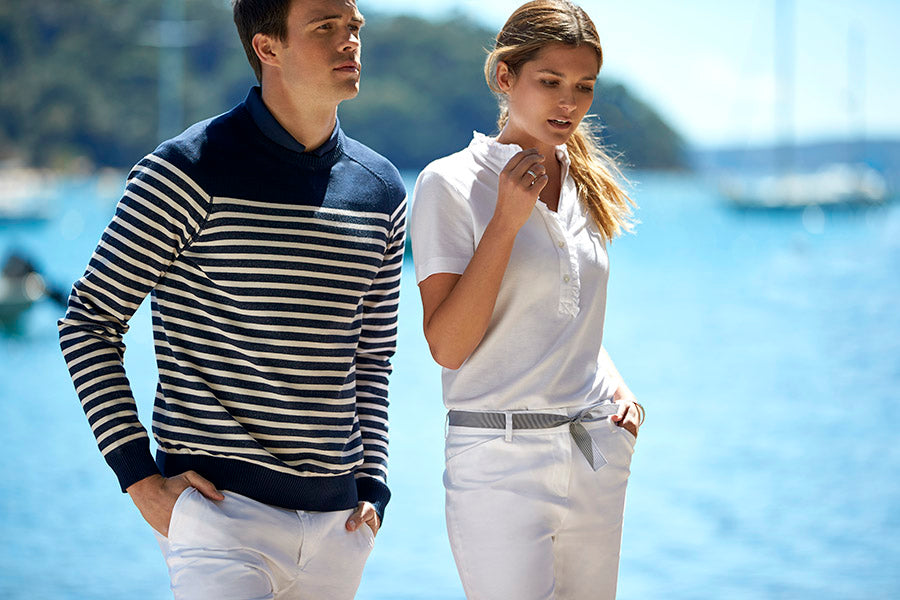 Any crew member who's worked on refits or new builds knows the amount of detail, research and planning (oh… and stress!) that goes into the final delivery. As with all things yachting, detail is key and it's a collective effort to ensure owner satisfaction.
Crew are the first and lasting impression, so getting the uniform right shouldn't be underestimated. Just like each piece of furniture, floral arrangement and meal, the way the crew are presented says something about the yacht.
As Chief Stew, you're of course going to be responsible for uniforms (amongst the million other things on your list). This can sometimes be a little overwhelming, even if you have done it  a bunch of times before. 
With some wonderful insights from Interior Operations Consultant, Mischa Pugatschew, we've put together a guide to help out along the way. (Mischa's also an Ex-Chief Steward, so she's our resident expert!).
Determine owner and Captain involvement.
Before you even begin the process, get this part sorted. Figure out how involved the owner and Captain want to be throughout the process.
Do they have specific requirements or design preferences you need to consider?
Do they want you to update them on each part of the process; or
Are they happy for you to manage and report back?
Budget.
Understanding your budget will give you an idea of your options and save you time in planning and researching. If you don't have a budget, you'll need to submit a proposal budget. Either way, understand how much you're working with before you start.
Design and aesthetics.
Consider a few design themes and the direction you'd like to take. Will it be a very classic white, navy and boat shoes look, or more modern with various colours? Pinterest and Google are great for this, and you should also think about creating a 'mood board' and visual design inspo summary to help compare styles.
Practicality and function.
Sure the crew have to look good, but how practical are the uniforms? Are crew comfortable performing their tasks in these pieces e.g. is there stretch in the fabric, does it do well with sweat and odour, is it likely to shrink in the wash and will it last? Do you need cooler fabrics for charters in the Pacific, or wind-proof thermal pieces to deal with the Alaskan cold?
Making an impact.
Sustainability and ethical supply chain are such a topical issue as we all become more aware of our environmental impact, so this might be something you need to factor into the production of your uniforms. Check out our blog on the benefits of bamboo.
Write a brief.
Once you've researched your design options, collate all the information you have and summarise exactly what you want in a uniform - budget, design, ethical considerations and functional elements. Ideally this would be signed off by the Captain and owner to ensure you're all on the same page before you start sourcing.
Consider supplier options.
Finding the right supplier can be the trickiest part. Often, you won't find all uniform elements from the one supplier, so you need to mix and match, or consider custom options. We can help you out with all these challenges, including bespoke designs or recommendations for shoes and accessories.
Spreadsheets are friends.
There's a whole lot of research and planning that goes into this task, and any Chief Stew will know, spreadsheets are your best friend for collating all the (sometimes overwhelming) info. Document EVERYTHING - list out the elements of your brief, and your findings from your research, including pricing and lead times, so you can easily compare. Download a copy of our template here.
Try before you buy.
This is a no brainer. Before committing, take your uniforms for a test run. Are they comfortable to work in? Will they last after a few washes? Do they hold shape and colour? Are they easy to dry and iron? Does the fabric shrink? Don't forget the shoes either - test out for blisters, and ease of cleaning.
Quantities and inventory.
This goes without saying, ensure you've factored in enough uniforms for all crew and any potential day workers you may need to cater for. Take into account the refit and new build period, how many tees and shorts will you need and how often will they need to be replaced throughout this period? Do you have the storage to keep larger quantities, or will you order as you need?
While there's of course a lot of elements to consider, this isn't surprising given the importance of crew comfort and presentation. Organisation and planning is key and luckily for Chief Stews, that will come naturally! 
Do you have any insights to share? Comment below.
Anchors and Dove