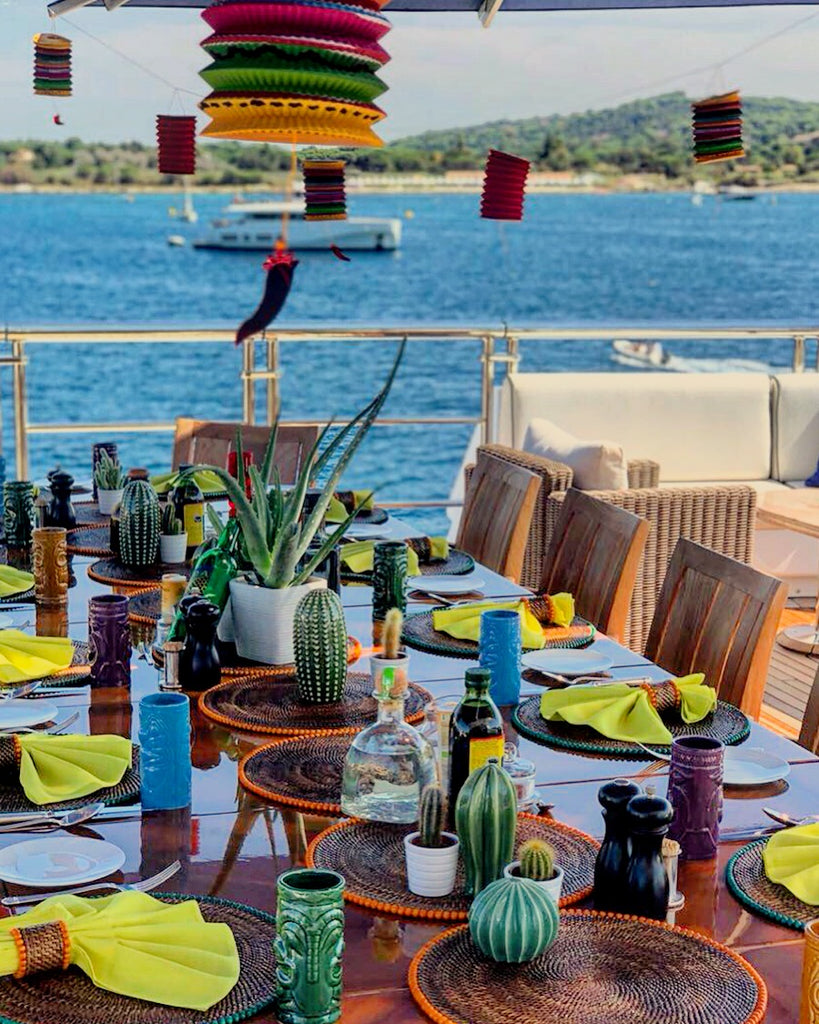 Food and dining are a key part of guest experience onboard any yacht. Beyond the obvious expectations of our wonderful Chefs, the delivery of this experience lies with the Interior team. Each meal is like a mini event - theming, timings, service. The importance of a table setting can't be overstated. It can turn a great meal into an unforgettable experience.
We spoke to our resident expert on all things interior, Mischa from The Sassy Napkin (…. oh and former chief stew and Interior ops consultant!), to get her tips on acing your table and theming.
Versatile props
You're on a ship in the middle of nowhere, so we know that storage space is an absolute premium. Investing in decorative pieces that can be used for a number of different themes and settings is one way to make the most of your space. Not only that, it's more sustainable as we're all looking to reuse and reduce our environmental impact. Double win!
Wow them with a fancy napkin fold
Hop on YouTube and Pinterest to learn some napkin folds that will blow their socks off. It elevates the table and can be used as another element of decor. The best folds will have guests guessing how on earth you managed to create this beautiful masterpiece and the attention to detail will pull your theme together.
Don't be a afraid of colour
Premium doesn't equal neutral and monotone colours. Colours can set the tone for the entire experience. Go with a bold colour to make a statement, beachy tones for a relaxed setting, or a variety of colours for fun and frivolity (think Hawaiian luau, mexican fiesta, summer party vibe). 
Keeping it fresh
Elevate your setting by adding fresh elements and textures. Think fruits, vegetables and herbs. One of our favourites is lemons - cheap and easy to source, and adds a vibrant and fresh touch of yellow. If time permits, consider using fresh greenery and flowers. Any good florist will work with you on ideas to create a masterpiece for your guests.
Planning is key
Stews don't need to be told, but we'll say it anyway. For a truly spectacular setting, your planning needs to be well executed. Mood boards, logistics, theme items - the right combination of elements will transport your guests to somewhere else entirely. Monstera leaves, coconuts, Hawaiian shirts and leis, paired with ukelele music and suddenly the guests feel like they're in Hawaii.
Don't forget the little guests
If there are children coming onboard, find out their favourite books, movies or games and try to surprise them with a themed evening. Of course the more time you have the better, but sometimes you can create something wonderful with very little notice.
Table settings don't need to be complicated to be effective. Some of the best have the most simple elements, executed well, with a touch of creativity. Let us know your tips below. 
Continue reading